Physical Therapy at Colleyville Chiropractic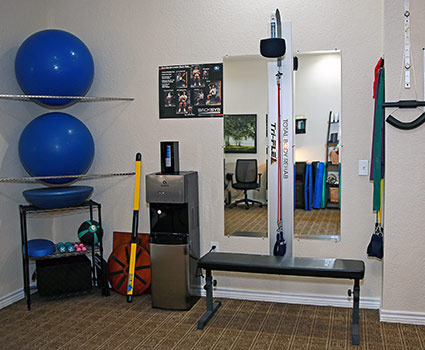 When people are told they need physical therapy, most assume they need to find a special office to receive this care. In many cases, Colleyville Chiropractic can provide this service for you, especially for orthopedic referrals. Dr. Castello often gets referrals from other practices for her services. If she feels it's what the patient needs, and we have the resources to do a good job, we'll take care of them here.
For special therapy needs, such as water therapy or other specialized care,
we will recommend you check your insurance for a qualified specialist to best meet your needs.
Your Exercise Program
Our goal for you is to stabilize your body by getting you stronger and increasing your tolerance. Most of our patients are dealing with injuries, or weak or damaged soft tissue like muscles, tendons, and ligaments. We work to build your endurance and strength levels, not only to reduce your pain, but also to help you get back to your daily activities. We teach you how to reclaim your life.
Although every program is different, based on your needs and condition, it will basically consist of exercises, stretching, and manual therapy. Dr. Castello will create a program to do at home and in the office. She works with you on the exercises to make sure you know how to do them properly.
Many people don't know the best ways to work out, and end up injuring themselves. Your program teaches you how to exercise when you leave our care, and how to do what they need to do. What exercises are good for them and those that aren't—that's why Dr. Castello refers to it as exercise therapy. We hope our patients will continue to use this knowledge when they are at home.
Equipped for Success
We have a fully equipped rehabilitation room to provide posture and back strengthening, and to train and restore muscular injuries, including shoulders, hips and knees. Our therapy room focuses on pain control for acute and chronic conditions, and includes electrical stimulation, therapeutic ultrasound, and intersegmental traction.
Our licensed massage therapist assists our doctors with the treatment of soft tissue conditions for a complete approach to your health.
Working for You
Our physical therapy programs give you the tools to get stronger and healthier to return to living your life. Book a visit today.
CONTACT US »
---
Physical Therapy Colleyville, Grapevine TX | (817) 427-2777