Chiropractic Products at Colleyville Chiropractic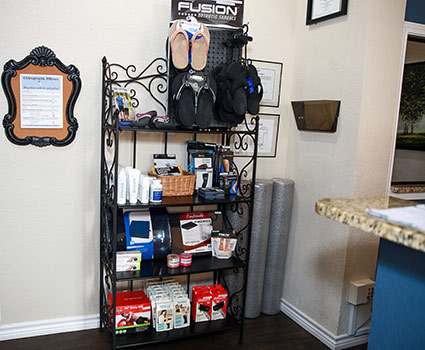 For our patients' convenience, Colleyville Chiropractic stocks numerous neck support pillows, heating packs, low back and pregnancy support belts, knee, wrist and other braces, home rehab equipment, pain relieving ointments, and much more.
Loaner Pillow Policy
Not sure if you want to invest in a new pillow? If you think you might be interested in one, but don't want to purchase it until you've tried it, just ask about our loaner policy. A pillow should provide proper neck support, it should fit your sleeping position, and it should be comfortable! Let us help you find the right pillow, so you're completely satisfied with your purchase. We'll let you try it out for up to one week before you buy. Please ask our staff for more information.
Custom Orthotics
Orthotics can help with issues related to walking and alignment. Some of these include, but are not limited to, knee, foot, and lower back pain. The use of these shoe inserts is often related to issues with your natural foot function. Orthotics may help realign the bones within the foot and ankle to take pressure off other parts of the body, such as the back, neck, shoulders and hips. In addition, orthotics help distribute your weight properly, to take further pressure off of toes, bunions, arches, heels, and other parts of the foot.
Anyone with an issue or discomfort relating to walking or postural imbalances in the body is a good candidate for orthotics. The great benefit of these inserts is that they can be worn daily and used during most activities to further relieve stress on the body.
Dr. Castello
can fit you for a pair of custom orthotics. Pricing ranges between $165-$175 per pair, and they come with a warranty. Improving your biomechanics is a great investment in your overall health and well-being.
Prefabricated Orthotics From PowerStep®
Prefabricated orthotics are an effective and cost-efficient alternative to custom ones. Developed by a podiatrist, PowerStep orthotics go beyond foot comfort by providing needed foot support. These shoe inserts may help prevent foot and low back pain, improve ankle stability, and foot function. Visit their website for more information on products and to place a direct order.
Be sure to use our referral code to receive a 10% discount on your order!
If orthotics have been recommended to you, follow the instructions below for ordering:
Visit the PowerStep website
Enter Rx code a28381b6
Select the recommended product, choose your size, and add to the shopping cart.
Check out and pay with a credit card.
Product will be shipped directly to your home address.
---
Chiropractic Products Colleyville, Grapevine TX | (817) 427-2777